FREE FALL
TRY THE FREE FALL WITH TAKAMAKA GRENOBLE !
FREE FALL GRENOBLE...AN EXPERIENCE TO LIVE ABSOLUTELY, SENSATIONS GUARANTEED !
SENSATIOns guaranteed with TAKAMAKA

book your free fall session GRENOBLE At : + 33 (04 80 42 00 70
NEXT TO GRENOBLE

St Geoirs airport is a wonderful site in order to make your free fall in tandem, with Takamaka Grenoble.

At around

4000m of height

, you will be able to contemplate a magnificent view on the Mont Blanc, the Bourget lake, Annecy lake, Aiguebelette lake or the Chartreuse massif.

a

SPORTIF

SENSATIONS

PARTAGE

Don't Hesistate, come and jump with us !
A desire for absolute freedom, in a sumptuous mountain environment.An adventurer at heart or a lover of thrills, the Grenoble freefall is at least to be done once in your life....An exceptional & unforgettable experience to offer yourself or a friend for a birthday, birthday or other occasion!Make your friends drool by showing them your courage and the magical panorama offered by the grenoble freefall!
WANT TO FLY ?



4000m : Start for Grenoble free fall

Drop altitude, the aircraft door opens and it's the big moment

200 km/h : Speed reached in a FREE FALL of GRENOBLE

1500m: Altitude where our instructor opens the parachute

15min: Time of the plane to climb up to 4000m

50 seconds: Time you will spend in free fall Grenoble after the FREE FALL GRENOBLE

5 min: Time spent with the open parachute where you can fly yourself
The GRENOBLE FREE FALL? ONE MOMENT of ADReNALINE andSURPASSING YOURSELF THAT WILL REMAIN FOREVER ETCHED IN YOUR MEMORY.
MODALITIES FOR YOUR

FREE FALL GRENOBLE

:

State qualified instructor

15 years minimum

Parental authorization if minor

85kg without worries, if not specify it to us

Certificate of no contraindications up to 6 months old
Fly with us !
You WIll be in the best conditions to achieve your FREE FALL GRENOBLE with TAKAMAKA
Movie option : 100€ offer yourself a video souvenir of your free fall Grenoble !
Are you a fan of air sports? Takamaka Grenoble offers you : HOT-AIR BALLOON , ULM, PARAGLIDING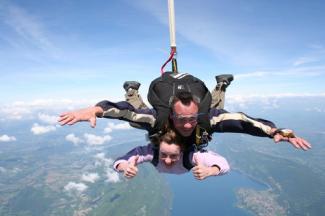 Skydiving tandem
Do you want to fly like a bird ? Try the skydiving with an instructor for a tandem flight. Program : Technical and safety briefing : 10 minuts Plane to reach 4000 meters : 15 minuts Free fall : 50 seconds Max speed : between 180 to 200 km / h Under the
...
Niveau : Débutant
Age mini : 15
Famille : Non
355.00 €
1 result found
Results 1-1 - Page 1/1
---
TAKAMAKA POCKETS AND GIFT VOUCHERS: PLEASURE TO OFFER ...

For celebrations, birthday, weeding or Bachelorette party, offer to people you like a moment of escape, discover and relaxation.
---
With this present, you will offer an unusual and unforgettable moment that can be choice between all of the activities we have.
Restons connectés
Vous pouvez suivre toute notre actualité sur les réseaux sociaux