Snowmobile in l'Alpe d'Huez
Discover snowmobile in l'Alpe d'Huez!
Enjoy snowmobile during a wonderful ride in the middle of mountains, during the day or at the sunset. We promise you an unforgettable trip and great sensations !
Since mid-december, every evenings, enjoy snowmobile rides in the ski resort l'Alpe d'Huez, near Grenoble located at 1850 meters high.
When the ski lifts close and the sun goes down, 23 kilometers of slopes dedicated to snowmobile wait for you !
Our instructors will teach you how to drive the snowmobiles, so that you can handle the powerful engine and have fun and good feelings safely. We have 12 Yamaha snowmobiles.
The driver has to be 18 or more. The driving license isn't mandatory.
The passenger has to be 6 minimum.
For a snowmobile ride full of pleasure, we can recommend you a traditional restaurant where you can eat after your snowmobile ride.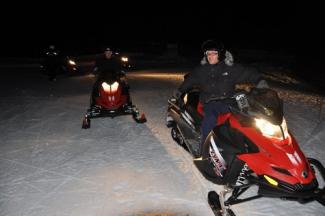 Day track:
You will drive on a marked track in a land of 4 hectares. The track is playful and varied (sinous bends, bumps, climbs, downhills… You will feel speed, slide at your own rythm. An unforgettable moment !
Ride:
Be ready for one hour ride on your snowmobile. The departures are every evenings between 5.30pm and 9pm with qualified instructors. Discover l'Alpe d'Huez and and its wonderful landscapes by riding on your snowmobile.
Features :
You have to come 15 minutes before the departure for safety instructions and briefing.
We will lend you helmets.
Please wear warm clothes, such as ski clothes, glasses or mask (with yellow screen if possible), warm shoes like after ski boots.
On site, we will ask for a deposit with a credit card imprint.
The driver is fully responsible of his behaviour.
We also propose snowmobile rides in Chamrousse.
Restons connectés
Vous pouvez suivre toute notre actualité sur les réseaux sociaux